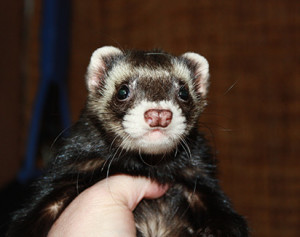 Bandit came in with three other ferrets because the owner was overwhelmed caring for her dying mother AND had just been diagnosed with breast cancer. They are all beautiful, happy ferrets. They've been at the shelter since May 2015.
Bandit is the acrobat of the group. He dances and jumps very high in sheer joy. He'll often jump over other ferrets, clearing them by at least 6 inches. He's the whirling dervish of the group, dancing, twisting, leaping and jumping on his friends. He should get along with others, but we'd have to try him. Bandit lives with Charlie and Louie.
If you'd like to put in an application, please fill out this form: Adoption Application.