Updated: September 28, 2015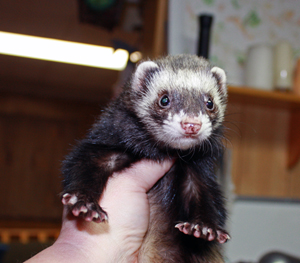 Coat Color: Sable
Behavior: Lively, playful
Gender: Female
Date of Birth: 06/03/2011
Adoption Donation: $75
Mila is a playful little sable girl who likes other ferrets and does not bite. She is lively and is happy for attention. Her owner died suddenly and Mila and her sister were surrendered to the shelter by relatives. Unfortunately, Mila's friend also died suddenly and now Mila is all that's left. She is currently living with another ferret and would like a lively playmate to help run off her energy.
Mila enjoys Ferretone and Bandit treats. She must go with a non-smoker as she was subjected to large amounts of secondhand smoke before she came to the shelter.
If you are interested in Mila, please fill out an application here. Visits by appointment only. Thank you for looking!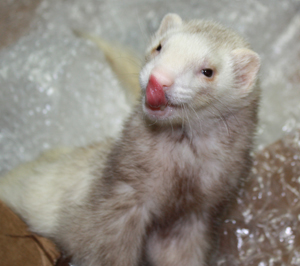 Coat Color: Chocolate Roan
Behavior: Sweet, gentle
Gender: Male
Date of Birth: 10/05/2008
Adoption Donation: $50
Sneaky is an older male ferret with a lot of love left in him. He is a very big ferret and at least half of that is fluff. He's beautiful, and he has a lovely chocolate roan color fur coat. He's sweet, calm, likes to be held, gets along with other ferrets and is generally a wonderful boy. He has a bit of IBD and low blood sugar, so he's on a couple meds that he takes twice a day. If you want a cuddly ferret, Sneaky is your boy.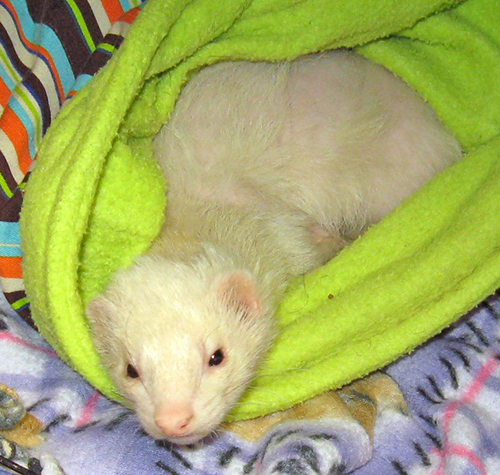 Age: 6-1/2
Gender: M
Adoption Donation: Negotiable
Sterling passed away from old age. We miss him!
---
---
Sterling is a very, very sweet and loving older dark-eyed white male. He loves to be around people and will follow you around like a puppy. If no one is in the room, he will quickly go to sleep, but if you are there, he will come out to see what you are doing. He loves to be held and will sleep in your arms.
Being an older ferret, he does have some health issues which are currently under control. He gets meds twice a day in the chicken soupies we make. He'd love to have a human of his own for his final years.
I can't stress enough how incredibly sweet this ferret is with people. He doesn't like other ferrets, though, which makes him a little harder to place. But he's definitely worth an extra play group and would be perfect for someone who spends a lot of time at home.