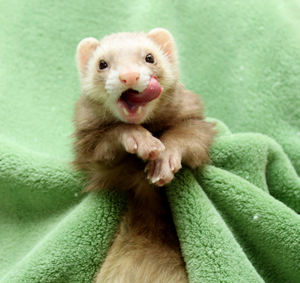 Cinnamon is a beautiful chocolate female who came to the shelter as a stray from Mt. Oliver. She was adopted in July 2013 to keep the family's ferret, HeraMae, company but both were returned in October 2014 because the family moved. Cinnamon is very pretty with soft fur and no health issues. She loves to hide small stuffed animals and cuddle! Cinnamon and HeraMae must be adopted together.
HeraMae is a deaf silver male who came in showing signs of adrenal disease. We are unsure of his age since he has had 3 previous owners before coming to the shelter, but the last owner says he is only a year old. He may be around two years old. HeraMae loves people and is very hyperactive. He loves to hide every toy in sight! He enjoys following you and climbing all over your body to get your attention. He is very bonded to Cinnamon and would not do well with other ferrets as he is too active for most. He does not bite but would not do well in a home with small children. He loves raw eggs and is good with the litter pan.
If you are interested in Cinnamon and HeraMae, please fill out an application here. Visits by appointment only. Thank you for looking!
Click to enlarge photos
Cinnamon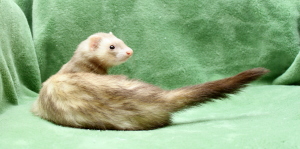 HeraMae